KAITO is a character in the Hatsune Miku: Project DIVA series.
Appearance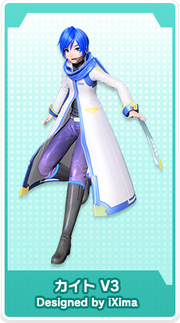 KAITO's most notable features is his blue-coloured hair and a blue scarf. His default attire consists of a white jacket/blazer with blue rim edges, lavender-coloured pants and black boots.
Background
KAITO is a humanoid persona voiced by a singing synthesizer application called Vocaloid developed by Yamaha Corporation. He has performed at live concerts onstage as an animated projection along with Crypton Future Media's other Vocaloids (like Hatsune Miku). He is the second Japanese Vocaloid ever to be released (the first being MEIKO). His voice was provided by Naoto Fuga.
External links
Ad blocker interference detected!
Wikia is a free-to-use site that makes money from advertising. We have a modified experience for viewers using ad blockers

Wikia is not accessible if you've made further modifications. Remove the custom ad blocker rule(s) and the page will load as expected.