Kasane Teto (重音テト, Kasane Teto?) is a character in Hatsune Miku: Project DIVA. Unlike the other characters, she is neither a Vocaloid character nor a derivative but rather, she hails from UTAU, a free singing synthesiser software similar to the commercially-released Vocaloid.
Teto made her debut in the series in Hatsune Miku: Project DIVA 2nd as DLC although she used Hatsune Miku's voice responses, making her technically a Hatsune Miku Module. Her later appearances do not depict her having a voice.
Appearance
Kasane Teto is notable for her red hair with drill locks on both sides (twin drills).
Like Hatsune Miku, Teto's attire is different to Miku where she wears a blue sleeveless dress with a pink stripe on it, and a tattoo in her left arm that says "0401 Kasane Teto". Her boots look similar to Miku, but her color is pink.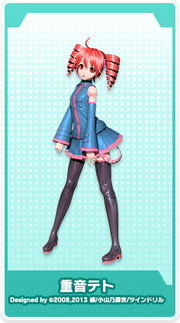 External links