Kasane Teto (重音テト, Kasane Teto?) is a character in Hatsune Miku: Project DIVA. Unlike the other characters, she is neither a Vocaloid character nor a derivative but rather, she hails from UTAU, a free singing synthesiser software similar to the commercially-released Vocaloid.
Teto made her debut in the series in Hatsune Miku: Project DIVA 2nd as DLC although she used Hatsune Miku's voice responses, making her technically a Hatsune Miku Module. Her later appearances do not depict her having a voice.
Appearance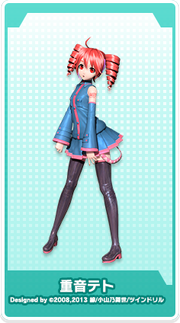 External links
Ad blocker interference detected!
Wikia is a free-to-use site that makes money from advertising. We have a modified experience for viewers using ad blockers

Wikia is not accessible if you've made further modifications. Remove the custom ad blocker rule(s) and the page will load as expected.