MEIKO is a character who appears in the Hatsune Miku: Project DIVA series. She is based off the avatar of the voicebank of the same name produced by Yamaha Corporation and released for Vocaloid, a series of singing synthesiser software.
Appearance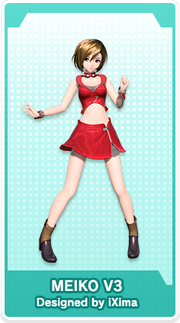 MEIKO's default attire consist, a red sleeveless jacket, a small red skirt and wears black boots with olive leggings.
Background
MEIKO is a humanoid persona voiced by a singing synthesizer application called Vocaloid developed by Yamaha Corporation. Her voice is sampled by Meiko Haigō. She has performed at live concerts onstage as an animated projection along with Crypton Future Media's other Vocaloids (like Hatsune Miku). She was the third Vocaloid ever released and the first to sing in Japanese.
The name of the character comes directly from her voice provider's name, "Haigō Meiko". MEIKO's codename was "Hanako";[1] it likely came from "Yamada Hanako (山田花子)", a placeholder name for female characters, and the Japanese equivalent to "Jane Smith". "Megumi" was also a name considered during her development.[2]
MEIKO was developed by Yamaha and sold by Crypton Future Media. Her voice was created by taking vocal samples from singer Meiko Haigō at a controlled pitch and tone. Crypton confirmed that MEIKO's image on her package had nothing to do with her image, but her anime-based appearance appealed to a mainstream audience and the software sold well. As of Vocaloid 3 (V3), the image on the box is fully accepted as her official mascot.
References
External links